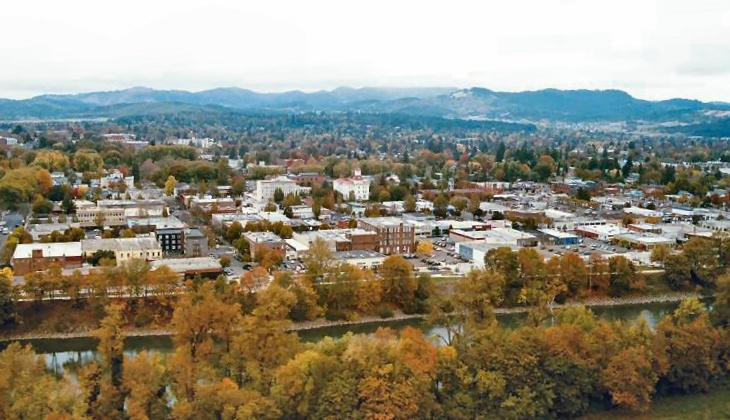 Downtown CorvallisCorvallis is nestled in the heart of Oregon's Willamette Valley, within 90 minutes of the Portland Metropolitan area, world class skiing, and the spectacular Oregon coast. Corvallis has a residential population of 53,900 and is home to Oregon State University. Also located in Corvallis are the major firms of CH2M Hill, Hewlett Packard, Evanite Fiber Corporation, Good Samaritan Hospital, and The Corvallis Clinic. This one-of-a-kind community is sure to capture your heart!
As of the United States Census Bureau's census of 2000, there were 49,322 people, 19,630 households, and 9,972 families residing in the city. The population density was 1,400.2/km² (3,625.6/mi²). There were 20,909 housing units at an average density of 593.6/km² (1,537.0/mi²).
There were 19,630 households out of which 24.0% had children under the age of 18 living with them, 40.8% were married couples living together, 7.2% had a female householder with no husband present, and 49.2% were non-families. 31.5% of all households were made up of individuals and 7.5% had someone living alone who was 65 years of age or older. The average household size was 2.26 and the average family size was 2.88.
In the city the population was spread out with 17.7% under the age of 18, 28.4% from 18 to 24, 27.0% from 25 to 44, 16.8% from 45 to 64, and 10.1% who were 65 years of age or older. The median age was 27 years. For every 100 females there were 99.2 males. For every 100 females age 18 and over, there were 98.2 males.
The median income for a household in the city was $35,236, and the median income for a family was $53,208. Males had a median income of $40,770 versus $29,390 for females. The per capita income for the city was $19,317. About 9.7% of families and 20.6% of the population were below the poverty line, including 15.2% of those under age 18 and 6.0% of those age 65 or over.
- Source.