Project Status
Grocery Grand Opening
Flanked by the Albany Chamber of Commerce Welcome Committee, Mr. Doug Nidiffer the president of C&K Market, Inc. announces to a pleased crowd that the new market is now open for business.
Other space is available for lease within the center. The impressive architecture lends itself to tenants that serve the retail, office and medical fields equally well.
Grocery Opening Predicted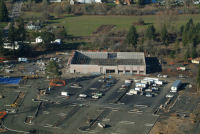 It is predicted that the new Ray's Food Place grocery will open for business with a "soft opening" near July 5th and have a grand opening for the public by July 14 of 2006. Rex Scoggins of the parent company, C&K Market, Inc. that owns the Ray's chain said, "We are excited about the Albany store, we have been looking at that area seeing a need for groceries for a long time". The new store will include video rental, a deli and Ray's has recently opened in Redmond, Oregon and will follow the Albany opening with a new store in Eugene later in 2006.
New tenants have already begun executing leases to secure prime spaces at the center. Some of these include HairMasters, Subway and Goin' Postal, and North Shore Tan.
Construction Begins
Site work has begun in time to allow the construction of the Ray's Food Place grocery store to be completed and open for business in late spring. Weather has allowed paving of the main parking area. It is expected that the shop buildings will begin construction in late December and be available for occupancy immediately after the opening of Ray's.
Project Application Approved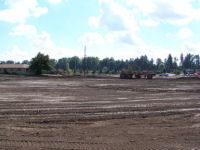 Site work began August 19, 2005 for the recently approved North Albany Center. The project is anchored by Ray's Food Store owned by C&K Market, Inc., ranked as the 21st largest privately owned company in Oregon. Ray's will operate a 43,500 square foot upscale grocery store.
The City of Albany Planning Commission, the Community Development Department and Friends of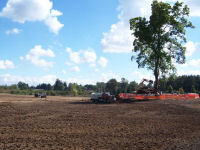 Mature Trees of Albany teamed with the developer to collaborate on a project plan that will retain many of the mature trees within the project. Among the trees being retained is a large Hickory tree, planned to be preserved as an important part of the large central plaza area.
The 112,000 square foot village style center will be constructed by SD Deacon Corp of Oregon, one of the top ten largest retail contractors in the nation and number two on the west coast in retail construction.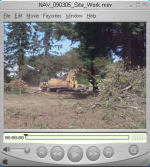 More than 160 new homes are incorporated into the project by pedestrian walkways and bicycle paths as well as planned public streets. Two home builders have already contracted to develop the residential component and build more than $30 million dollars in new homes, starting in the fall of 2005.
Ray's is expected to open in the late spring of 2006 and the center is planned to be in full operation by summer of the same year.
Construction Application Filed
On January 26, 2005 a construction application was filed with the city which will include 168 single family homes.
The City of Albany Community Development Department reached agreement with North Albany Village that the application is complete and a first public hearing is being scheduled for early in May of 2005. Revisions include an increase in the size of the residential park and a decrease in the planned subdivision to 160 single family units.
About the Project
North Albany Village, is a 35-acre commercial neighborhood center and housing development bordering North Albany Road and N. Hickory Street in Albany, Oregon. In the planning stages, effort was given to maximize the synergies between the residential and commercial components. A public meeting plaza, community center and forested central park will add amenities that make it a comfortable place to live. Planned walking paths and bike paths will connect the residential and commercial areas.
The project is near to public and private golf courses, an athletic center and a short distance to a grade school and a middle school. A public city bus route connects the project to downtown and Linn-Benton Community College.
Developer, North Albany Village, LLC hopes to submit a site plan for city review by January 10, 2005 allowing construction to start in June 2005. An opening for a 42-000-square-foot grocery store is tentatively set for March 2006.
Housing will include 150-170 single family residential homes expected to sell for between $150,000 to $200,000 each. North Albany Village, LLC is interviewing potential homebuilders that can bring a quality product to the neighborhood center.
North Albany Village in conjunction with The Friends of Mature Trees of Albany have completed a review of all existing mature trees on the project site. More than 80 mature trees have been planned for retention under the current plan, allowing the project to be framed with these trees in addition to the proposed landscape plan.